Pavement Profile Scanner PPS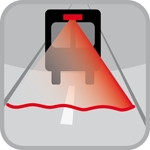 Data on the quality of road surfaces provide the basis for planning maintenance work on the road network. The PPS pavement profile scanner delivers a detailed three-dimensional height profile of the road surface. No bigger than a shoebox, the scanner is mounted on an inspection vehicle at a height of three meters above the road surface. Using a single laser beam, the PPS scans the road over a breadth of roughly 4 meters. The distance from the road is determined by the time delay between the emitted and reflected light. The laser scans the surface 800 times per second, perpendicular to the forward motion of the vehicle. Each of the profiles generated in this way consists of approximately 900 measuring points. The system is therefore even able to register unevenness of less than 0.2 mm.
The PPS presents an alternative to the triangulation laser sensors frequently used in mobile mapping. Up to forty such sensors are necessary in order to capture the road surface across its full breadth. In May 2012, the PPS received as the first system of its kind an operating license from the Bundesanstalt für Straßenwesen.
Our development team is currently working on an extended version of the PPS which will also generate a high-resolution intensity image of the road surface, besides the transversal evenness. A patented approach achieves a resolution which permits even small cracks and other structure characteristics of the road surface to be detected.