Starting signal for the i-skaB project
Fuel cell production of the future
Revolutionizing the production of fuel cells – that's the ambitious goal set by seven partners from research and industry. i-skaB is a joint project for innovative, scalable fuel cell production as well as stack production at 30-second intervals. The project was launched at the beginning of the year and is funded by the Federal Ministry for Digital Affairs and Transport.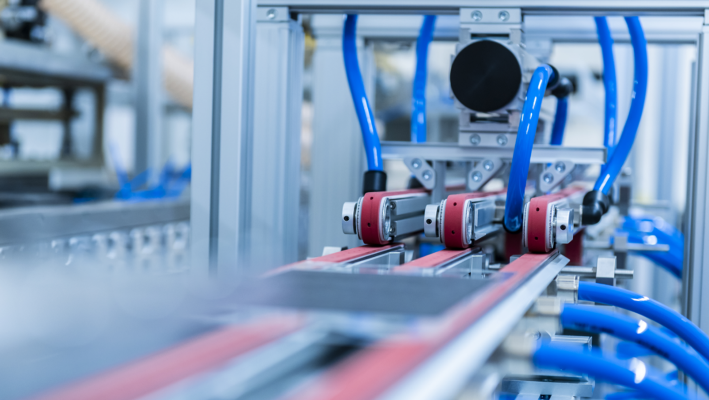 The i-skaB project strives to improve manufacturing processes so that fuel cell production can become fully automated. In the medium term, this should increase annual production by a factor of 20, from a line output of up to 25,000 today to over 500,000 fuel cells per year. The production of fuel cells and their central components such as bipolar plates (BPP) and membrane electrode assemblies (MEA) is still mostly manual today, with cycle times being so low that the output of a single production line is just a few fuel cell stacks per day.
The project consortium is made up of five industrial companies and two research partners. Only the combined know-how of all partners will enable industrialization and scaling of fuel cell production in the future.
Quality assurance based on computer vision and digital holography
The project requires fundamentally redesigned, fully automatable and innovative manufacturing technologies. Over the next three years, all key technologies of the production process will be optimized, tested and validated. One key aspect of the project is the establishment of rapid optical quality assurance based on innovative computer vision approaches and 3D measurement techniques such as digital holography.
Further information
The project i-skaB (innovative, scalable fuel cell production), sub-project "Development, construction and testing of a digital-holographic measurement system for quality assurance of fuel cell components" is funded by the German Federal Ministry for Digital Affairs and Transport (BMDV) (funding reference 03B1 1033 C). Forschungszentrum Jülich GmbH is the project sponsor.
Project partners
thyssenKrupp Automation Engineering GmbH (Consortial management)
BMW Group
Laufenberg GmbH
SK LASER GmbH
Siemens AG
The hydrogen and fuel cell center ZBT GmbH (ZBT)
Fraunhofer Institute for Physical Measurement Techniques IPM
Project term
01/12/22 to 30/11/25