Sweden tests road scanners
Top Score for Pavement Profile Scanner
In a comprehensive study, the Swedish National Road and Transport Research Institute VTI conducted a comparison of road surface measurement systems. The study documented the performance of the Pavement Profile Scanner PPS from Fraunhofer IPM.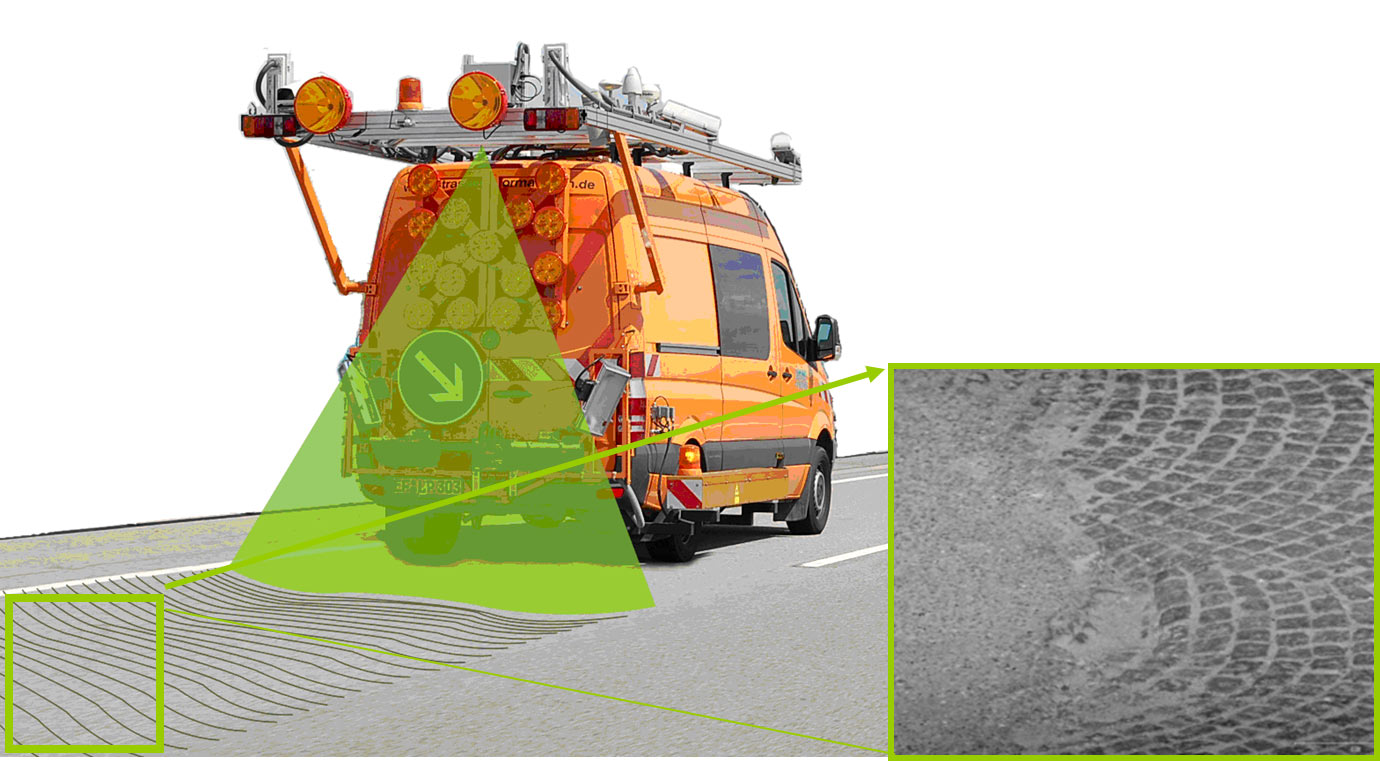 Regular measurement of the road surface provides important road maintenance planning data. The more detailed and exact the data is, the more efficiently public authorities and municipalities are able to plan the necessary maintenance work. Laser-based measurement systems, which measure the road surface quickly and accurately, have been in use all over the world for several years already. There are basically two different types of measurement systems used: triangulation measurement systems and laser scanners. Both methods have certain advantages and disadvantages, and for years now, experts have been debating which approach is best for measuring road surfaces. Recently, Swedish and Finnish authorities contracted the Swedish National Road and Transport Research Institute VTI to conduct a study to serve as the basis for introducing innovative measurement technology to measure the condition of road surfaces. Thus far, Sweden and Finland have been using non-scanning point-laser systems to measure road surfaces. The study is intended to show the extent to which laser scanners are superior to the technologies used to date. The Pavement Profile Scanner PPS from the Fraunhofer IPM was awarded the top score in the 150-page long study.
A total of five laser-based measurement systems were tested. The PPS from Fraunhofer IPM was installed on a survey vehicle from the Fraunhofer IPM cooperation partner Ginger (Lehmann + Partner GmbH) to take measurements for the study. The results of the study show that the PPS is able to measure the transverse profile and rut depth as well as the road markings with the required reliability. Furthermore, it was shown that scanning systems like the PPS are just as accurate as triangulation measurement systems, and in some essential points are even clearly superior (e.g. in terms of eye safety).
PPS Plus road surface scanner supplies photorealistic images
In the course of the study, Fraunhofer IPM presented an extended version of the PPS. In addition to data on the transversal evenness, the PPS Plus also generates a high-resolution intensity image of the road surface. Thanks to its patented technology, the measurement system achieves a resolution which permits even small cracks and other structural features of the road surface to be detected. The last bastion of triangulation measurement systems – the ability to generate photorealistic images of the road surface – has thus fallen. For the first time, there is an eye-safe (Laser Class 1) system available that is able to measure the 3D geometry and structure of the road surface at speeds of up to 80 km/h.