Sector Profile Scanner SPS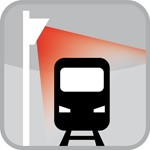 Load slippage represents a safety risk in rail traffic, particularly in stations or tunnels where it can cause accidents with serious consequences. To identify faults and acute hazards of the rolling stock at an early stage, Fraunhofer IPM has developed laser scanners for a measurement portal that measures the geometrical shape of passing trains.
The optical sensor system SPS consists of four laser scanners mounted on inspection poles to the left and right of the tracks. Thanks to extremely high measuring rates, the train does not need to reduce its speed when travelling through the portal. A three-dimensional image is available immediately after the train has passed. It shows any geometric irregularities such as slipped or protruding loads, loose tarpaulins, open doors, deformed containers and detached connections between the wagons.